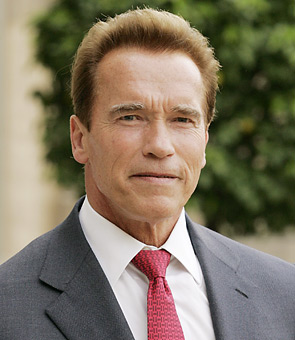 For Governor Schwarzenegger, it turns out to be bad luck that this was the year Craig's List started cracking down on prostitution ads. Just when California state government needed the money most!
And for a limited time only on eBay and Craig's List . . . the state of California!
In his latest effort to balance the budget, the governor is cleaning out the state's storage sheds and holding a garage sale on Craigslist and EBay.
Need a 2001 Ford Focus wagon with 110,059 miles and Schwarzenegger's autograph on the visor? Someone did, offering the high bid of $1,625.01 for the old state car as of Tuesday afternoon. The governor got the idea to sign the visors from one of nearly 1 million people who follow him on Twitter, and he jumped on it.
("California holds a garage sale — with cars autographed by Schwarzenegger," Los Angeles Times, August 26) Lest you think Arnold Schwarzenegger's signature on a car might increase its value or make it a collectible, remember that his signature added no value whatsoever to those IOU's California drafted through much of July. And no-one, as far as I can tell, ever had the ditzy notion of collecting them. Maybe the state can cut a deal with eBay and get its own special store, like GM, where they can sell off bits and pieces of the government. You want to sell California surplus on eBay? Sell the legislature building, legislature offices, governor's staff offices, and the governor's mansion, since those buildings don't seem to be doing the people of California much good. Turn them into a water slide park or paintball arena or something. And the old Ford Focus they sold for the budget-saving price of $1,600? Give the Governor and his wife a sleeping bag and the keys to the car and, voila, instant governor's mansion at a fraction of the cost.
---
One more reason to be cautious about selling out . . . unless you're really selling out by getting out.
FASA Interactive founder Jordan Weisman has spoken out about Microsoft's acquisition of his highly-regarded studio, saying that the corporation "destroyed" its development culture and came close to doing the same with Halo developer Bungie.
"When Microsoft bought FASA Interactive and incorporated it into Microsoft… the two reasons they bought us was, one, they wanted the catalogue of intellectual properties and, two, they felt that we had developed a really good development culture. And the reality is that, pretty much from the day we moved to Redmond, that development culture was destroyed . . ."
They moved everybody into Microsoft's standard organisation, he said, and then changed his role so his staff were no longer reporting to him. "I was creative director for the entire group – all 300 people, not just the 60 that came with me from Chicago – so that didn't help either."
("Microsoft "destroyed development culture" at FASA," GamesIndustry.biz, August 27) In case you weren't around in the 1980's and 1990's (or had better things to do than computer games), FASA created the highly popular and money-raining video game series, MechWarrior. When Microsoft acquired the company in 1999, you knew this was not a marriage made in heaven. Here's a company whose acronym stands for "Freedonian Aeronautics and Space Administration" (Freedonia is the fictional country in the Marx Brothers movie, Duck Soup) being merged with the "if-it's-fun-it's-against-the-rules" Microsoft culture. It took only two years, from 1999-2001, under the Microsoft scorching sun for FASA to cease all operations and simply become a library of intellectual property. The company officially shuttered its doors in 2007. It was, to say the least, one of the great video game development companies and had no business being run as a Microsoft unit. The lesson: if you're planning to sell out, sell out. Put the money in the bank, buy a year's worth of vacation time shares, pack your bags, and vaya con Dios. If you're planning to stay on, don't sell.
---
Robocalls sounds like something out of a FASA game and, like FASA, they're soon to be history.
Yesterday, the Federal Trade Commission said it is banning many types of prerecorded telemarketing solicitations, known as robocalls. Currently, consumers must specifically join a do-not-call list to avoid them. Starting Sept. 1, telemarketers will need written permission from the customer to make such calls. . . .
Violators will face penalties of up to $16,000 per call. Don't expect all solicitations to disappear, though. Calls not intended to sell goods and services will be exempt, such as those that provide information about flight cancellations. Debt collectors can call, too, along with politicians, charities, banks, insurers, and phone companies. Calls used for surveys and certain health care messages, such as prescription notifications, are also allowed.
("FTC bans many types of 'robocalls'," Associated Press, August 27) Okay, is it just me, or does the new rule provide a loophole large enough to drive an entire telephone exchange through? First, the only robocalls I get are from politicians, banks, insurers, and surveys. I can't speak for the rest of you, but the robocalls that bother me the most are from politicians. Frankly, I'd rather have the local porn store calling me every hour about their new sex toys than this syrupy nonsense from Nancy Pelosi and John McCain and Buck McKeown (our local absentee owner of our district's congressional seat). "Hi, this is (insert Tweedledee/Tweedledum politician's name here) and I'm calling you about an issue of great concern." And surveys? Just mask your solicitation call as a survey and you can skip the written permission. "Question one: have you ever used a penile enhancement product? Yes or no." "Question two: if no, would you consider trying such a product if offered at the low, low price of $19.99 per month? Yes or no." Why don't I receive very many solicitations via robocalls? Because smart businesses know that you don't build a positive brand image by annoying people. You know what? Just ban robocalls. Period. Give us some peace.